Since the passage of the National Currency Act during Civil War, banks have had a choice. They could choose a national charter or state charter. I've long been a proponent of the dual charter system because I believe that it introduces regulatory competition (something that is often wanting in government); promotes innovation; and enhances federalism and local accountability.
Typically, larger banks will favor a national charter because they favor a nationwide regulator. Smaller banks may choose a state charter based on lower regulatory costs and better access to their regulators. At the end of last year, 177 banks in California had chosen to operate under a charter issued by the Department of Financial Institutions.
As discussed in this earlier post, Governor Jerry Brown recently submitted a reorganization plan to California's Little Hoover Commission. This plan proposes to create a new "Department of Business Oversight" through the merger of the Department of Corporations and the Department of Financial Institutions. Five former Superintendents, Commissioners and Chief Deputies of the DFI opposed a similar consolidation of the DFI and DOC when it was proposed three years ago by former Governor Arnold Schwarzenegger. As a former head of the DOC and the Department of Savings & Loan, I also opposed that plan.
I am therefore very concerned to see this plan resurrected and put on a fast track to implementation. Under the Constitutional and statutory provisions governing gubernatorial reorganization plans, there is an exceedingly short time clock on this ticking bomb. Unless either the Assembly or Senate adopts by majority vote a resolution rejecting the Governor's plan, it becomes effective on the 61st day after it has been given to the Legislature. The Little Hoover Commission is required to review the plan and must submit its recommendation within 30 days.
Consolidation of the DOC and the DFI, particularly within the larger consumer agency also proposed by the Governor, will reduce regulatory effectiveness. As a result many of the larger state chartered banks will likely convert to a national charter, leaving the Department of Business Oversight with smaller, and perhaps weaker, banks. The result will very likely be the demise of the state bank charter.
The loss of a state chartered banks isn't just a matter of concern for banks. Small businesses, in particular will feel the loss of smaller community banks because these banks are a significant lending source. For example, the U.S. Small Business Administration released data in February 2011 that show that since 2009 there has been a decrease in small business loans by the largest banks. At the same time, lending by smaller banks (those with less than $500 million in assets) remained stable. (See the chart below, the typo is in the original.) Another study by the National Federation of Independent Business (NFIB) concluded:
Small-business owners whose primary institution is a regional/community bank were more successful obtaining a new line than those whose primary institution is a large bank. Fifty-one (51) percent of the former received approval and obtained their new line compared to 33 percent of the latter.
William J. Dennis, Jr., "Small Business, Credit Access, and a Lingering Recession" p. 26 (Jan. 2012).
The threatened demise of the dual banking system is an extremely important issue, not just for California banks, but for California businesses who borrow from those banks. Here is information on how to submit comments to the Little Hoover Commission. The clock is ticking . . . .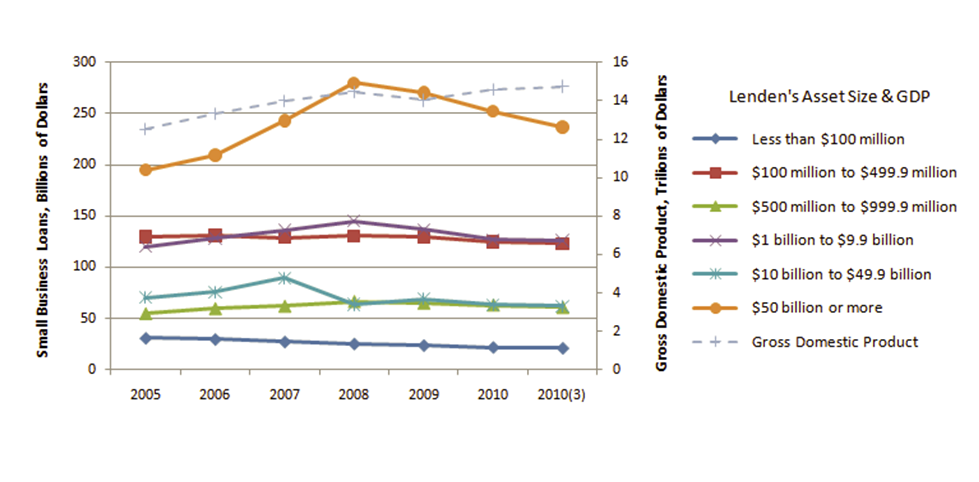 Source: Office of Advocacy, Small Business Administration, "Small Business Lending in the United States, 2009-2010 (Feb. 2011).
Post Updated 4/17/2012
Share on: