Yesterday, I covered Judge Lewis A. Kaplan's holding in In re Lehman Bros. Securities & Erisa Litigation, 2012 U.S. Dist. LEXIS 148177 (Oct. 15, 2012) that there is no liability under Corporations Code Section 25400 when the plaintiff and defendant dealt in different securities. Judge Kaplan also considered the parameters of liability under Corporations Code Section 25504. That statute imposes liability on, among others, control persons, as illustrated below: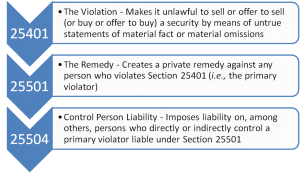 Judge Kaplan noted that Lehman had sold the securities in firm commitment underwritings so that the initial purchasers were the members of the underwriting syndicate. This meant that the underwriters, and not the plaintiffs, were in privity with Lehman. Because there can be no controlling liability without a primary violation and Section 25401 requires privity between the purchaser and seller, Judge Kaplan dismissed the plaintiffs' claims under Section 25504.
Readers may recall my earlier post, "Second DCA Takes Issue With Fourth DCA Over Privity", in which I discussed the California District Court of Appeal's holding in Moss v. Kroner, 197 Cal. App. 4th 860 (2011). The court in Moss found that rescission was available to a plaintiff under Section 25504 even though the plaintiff was not in privity with the defendant. Judge Kaplan distinguished Moss on the basis that the plaintiff was in privity with the primary violator.
For other posts on privity under the Corporate Securities Law of 1968, see:
Society of Corporate Secretaries and Governance Professionals Western Regional Conference
Next Wednesday, I'll be in Berkeley for the Society of Corporate Secretaries and Governance Professionals Western Regional Conference. I'll be participating in a discussion with Barbara Mathews, Vice President, Associate General Counsel, Chief Governance Officer & Secretary at Edison International. We're part of the "essentials" program and we will be talking about the fundamentals of corporate governance. I spoke at the conference last year and it provides great practical advice from some of America's leading corporations, including Chevron Corporation, The Clorox Company, Peet's Coffee & Tea, The Walt Disney Company, and Sempra Energy. If you are able to attend the conference, please let me know that you are a reader.
Share on: