Lately, I've been reading Theodore C. Bestor's, Tsukiji: The Fish Market at the Center of the World. Thus, it is no surprise that my thoughts of late have been on piscatorial matters.
For example, I've always been encouraged by the fact that the California Constitution explicitly guarantees the right to fish. It's right there in the Declaration of Rights (Article I, Section 25):
"The people shall have the right to fish upon and from the public lands of the State and in the waters thereof . . .".
For the sake of sustainability and sportsmanship, the Constitution does prudently provide an exception for fish hatcheries (fishing there would be just a bit too easy). The same provision prohibits the state from selling or transferring any land without reserving the right of the people to fish thereon. Finally, the Constitution provides:
"[N]o law shall ever be passed making it a crime for the people to enter upon the public lands within this State for the purpose of fishing in any water containing fish that have been planted therein by the State, provided, that the legislature may by statute, provide for the season when and the conditions under which the different species of fish may be taken."
The Constitution also establishes a Fish and Game Commission. Cal. Const. Art. IV, Section 20.
The Corporations Code also includes the Fish Marketing Act, Corporations Code Section 13200 et seq. whose purpose is "to promote, foster, and encourage the intelligent and orderly marketing of fish and fishery products through cooperation; to eliminate speculation and waste; to make the distribution of fish and fishery products between producer and consumer as direct as can be efficiently done; and to stabilize the marketing of fish and fishery products." Cal. Corp. Sec. 13201.
Below is a photo that I took of one of the many fish auctions that are held in the early morning at the Tsukiji Central Wholesale Market in Tokyo, Japan. The market handles hundreds of thousands of tons of seafood daily and several hundred varieties of seafood products. Professor Eric A. Feldman at the University of Pennsylvania Law School has even written a law review article on market, The Tuna Court: Law and Norms in the World's Premier Fish Market, 94 Cal. L. Rev. 313 (2006).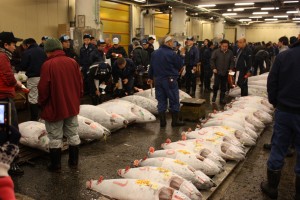 Share on: