In a recently published paper, Colleen Honigsberg, Sharon P. Katz, and Gil Sadka examine the relationship between debt contracts and state law. Perhaps only Captain Renault will be shocked by their finding that "California represents the most pro-debtor state and New York the most pro-lender." They also note that "the states with the most pro-lender law are generally those with the most significant financial sector presence". Thus, New York is the most pro-lender state and its financial sector contributes the largest percentage to the state's gross domestic product. In pro-debtor California, the financial sector is not among the state's top-five industries. An intriguing question is whether the New York is pro-lender because its financial sector contributes so much or that its financial sector is robust because the state laws are so amicable to lending. A third possibility is that this an example of correlation without causation.
In Japan, Dutch was the lingua franca
Yesterday, I quoted a brief excerpt of an interaction between Townsend Harris, the first American consul posted to Japan, and the Governor of Shimoda, Japan. The quotation was from an English translation of the Japanese record of the meeting, Dai Nihon Komonjo, Bakumatsu Gaikoku Kankei Monjo. Townsend Harris spoke no Japanese and the Japanese spoke very little English. Townsend Harris' interpreter was a young Dutch-American, Henry Heusken. He didn't speak Japanese but some Japanese could speak Dutch because the Dutch had been permitted to engage in very limited trading in the port of Nagasaki since the 17th century. When Japan sent its first embassy to the United States in 1860, negotiations were still being conducted in Dutch. For a fascinating account of the 1860 diplomatic mission, I highly recommend Masao Miyoshi's As We Saw Them (Univ. Cal. Press 1979).
Tragically, young Henry Heusken was assassinated in Tokyo (then known as Edo) by adherents to the sonno-joi (尊皇攘夷) (Revere the Emperor, expel the barbarians) movement. On my last visit to Japan, I visited his grave at the Kōrinji (光林寺) cemetery. Below is a photograph of his grave: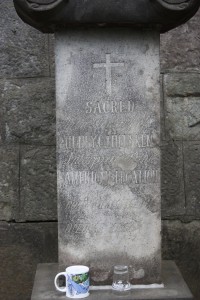 Share on: