In Koehler v. NetSpend Holdings, Inc., 2013 Del. Ch. LEXIS 131 (Del. Ch. May 21, 2013), Vice Chancellor Sam Glasscock III wrote "In fact, NetSpend appears more Rapunzel than Penelope; she must, it seems, let down her hair or go unrequited." In a footnote, he attributes the story of Rapunzel to the brothers Grimm (Jacob and Wilhelm). This is accurate as far as it goes. However, the Grimms didn't invent the story nor did they record an oral folk-tale. Their story was based on an 18th century German translation of a French story written by Charlotte Rose de Caumont de la Force in the 17th century.
Recently, I discovered another Rapunzel story. I've been reading the Shahnameh by Abolqasem Ferdowsi. Actually, I'm reading an abridged version. However, even the abridged book is nearly 900 pages long. For those not familiar with the Shahnameh, it is the national epic of Persia. The poet Ferdowsi wrote the poem in the late 10th and 11th centuries C.E. It covers both mythical and historical events. Here is the Rapunzel story according to Ferdowsi:
Hearing his words, she [the beautiful Rudabeh] loosened her hair, which cascaded down, tumbling like snakes, loop upon loop. She said, "Come, take these black locks which I let down for you, and use them to climb up to me." Zal gazed in astonishment at her face and hair . . . ."
(Translated by Dick Davis).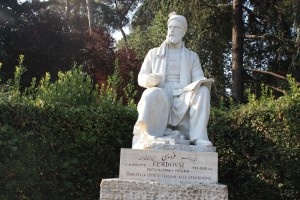 Statue of Abolqasem Ferdowsi in Rome