In "The Scope Of Stockholder Inspection In California And Delaware", I wrote about what a shareholder is entitled to inspect under California's shareholder inspection statute - Corporations Code Section 1601. I did not discuss where that inspection must occur, a question addressed yesterday by the California Court of Appeal in Innes v. Diablo Controls, Inc. (Cal. App. Case No. 1145528, June 16, 2016).
The shareholders in that case had submitted a written demand to inspect a California corporation's accounting books and records, meeting minutes, as well as certain other records. The shareholders sought to inspect these records at the corporation's office in California. The records, however, were located in the corporation's office in Illinois. Nonetheless, the corporation shipped some of the records to California and made them available to the shareholders for inspection at the California location. Finding the records incomplete, the shareholders filed a petition for a writ of mandate requiring the corporation to make the records available at its California office. The corporation responded to the petition by mailing some additional records to the shareholders and making some other records available for inspection at its California lawyer's office. However, the shareholders viewed these records as incomplete and pressed the court to issue a writ. The corporation countered that it was only required to make the records available for inspection at its Illinois office.
The First District Court of Appeal agreed with the corporation. In an opinion by Justice Mark B. Simons, the court found that Section 1601 only requires that records "be open to inspection . . . at any reasonable time during usual business hours . . .". The statute is silent on where the inspection must occur. Citing Jara v. Suprema Meats, Inc., 121 Cal. App. 4th 1238 (2004), the Court of Appeal held that Section 1601 requires that the records be made available for inspection at the office where those records are kept. The Court of Appeal cautioned, however, that "maintaining the records in a remote location to intentionally impede inspection would be contrary to the purpose of section 1601".
It should be noted that California Corporations Code Section 213 requires that a corporation keep a copy of its bylaws at its principal executive office in California, or if the its principal executive office is not in California, at its principal business office in California. If the corporation does not have either a principal executive office or a principal business office in California, then the corporation must furnish a copy to any shareholder making a written request.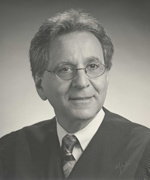 Justice Mark B. Simons