Last week, the Securities and Exchange Commission trumpeted that whistleblower awards have now exceeded $100 million, or a million Benjamins!
"Chance, the loss or gain of a moment"
The SEC's total payout is impressive, but the number of payees is extremely small. According to the SEC, awards were paid to only 33 persons. Moreover, 77.6% of the payout, or $83 million, went to just 4 whistleblowers. From inception through fiscal 2015, the SEC received a total of 14,116 whistleblower tips and made payments to 22 persons. Based on these numbers, the probability of receiving an award is 0.00155. In comparison, the California Lottery posts the odds of winning $10 on its $1 "Set For Life" Scratchers game at 0.00962, or more than 6 times better.
The SEC has published "tips by state" from inception through the end of the 2015 fiscal year. Below are some observations based on the SEC and U.S. Census data:
California accounted for 19.4% of the 10,540 worldwide tips received by the SEC.
California accounts for approximately 12% of the total U.S. population.
New York, which has less than one-half the population of California, supplied less than half as many tips as California.
California's ratio of tips to total population was nearly double that of Texas (.oooo52 compared to .000027) (based on U.S. Census Bureau estimates for July 1, 2015).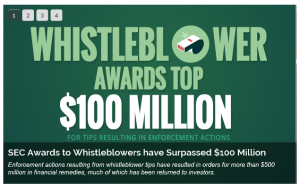 The SEC's website graphic is the color of money.
[9/6/2016 - corrected percentage payout to four persons.]
Share on: