I am very excited to be moderating a panel discussion this weekend at a symposium entitled Can Delaware Be Dethroned? Evaluating Delaware's Dominance Of Corporate Law. The symposium is being presented by the Lowell Milken Institute for Business Law and Policy at UCLA's School of Law. My panel consists of distinguished legal scholars from around the country: Michal Barzuza (University of Virginia School of Law), Jill E. Fisch (University of Pennsylvania Law School); Sean J. Griffith (Fordham Law School); and Lynn M. LoPucki (University of California School of Law.
The symposium's title restates what we already know - Delaware is sitting on the throne of corporate law. California, in contrast, is a serf:
California, home to 1,210 [public] companies but state of incorporation for only 112, is the biggest loser.
LoPucki, Corporate Charter Competition. But was King Henry correct that "uneasy lies the head that wears the crown"? Professor Barzuza notes that Nevada has been successful in moving up in the world where California has not:
Recent years have witnessed a surge in the use of Nevada as a "laboratory" for studying the impact of a lax legal regime on corporate behavior and performance. After all, efforts by Nevada lawmakers to attract out-of-state incorporations have been largely successful. Among large public firms, Nevada ranks second only to Delaware in out-of state incorporations, and the number of public companies incorporated in Nevada more than doubled between 1990 and 2010. While reliable statistics on private firm incorporations is lacking, anecdotal evidence suggests that Nevada has been at least as successful attracting small and private firms as it has in the public space.
Barzuza & Smith, Nevada's Corporate Law & Firms: What We Know and What We Don't (Yet).
Home - Can You Go There?
Yesterday, Broc Romanek captioned a post in his eponymous blog "You Can Go Home Again (If You're Mary Jo White)". The post concerned former SEC Chair Mary Jo White's return to the law firm of Debevoise & Plimpton. Broc's caption is an allusion to Thomas Wolfe's posthumous novel, You Can't Go Home Again. I have a special fondness for Wolfe as he and I both spent time in Asheville, North Carolina and went to school at Harvard. Wolfe's book, Look Homeward Angel, is one of my favorites. It is a semiautobiographical novel of growing up in Asheville. Wolfe's descriptions of the locals was not flattering. You Can't Go Home Again tells the story of a writer who makes a name for himself by writing about his hometown only to incur the obloquy of his erstwhile neighbors. A recent movie, Genius, tells the story of Wolfe and his first editor, Maxwell Perkins. I enjoyed the film immensely and marvel that someone would actually have the temerity to make a movie about an author and a book editor. Before Wolfe died, he switched publishing houses and his posthumous works were assembled from his voluminous manuscripts by Edward Aswell.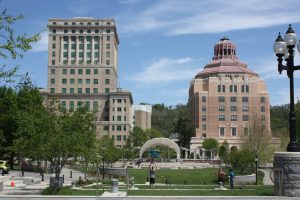 Asheville, NC