In several blog posts, I have commented on the right to a jury trial under California law. This may seem like an inapposite subject for a blog devoted to corporate and securities law issues. Nonetheless, I have prognosticated that the right to a jury trial may be a basis for challenging a Delaware choice of law bylaw. See Forum Selection Bylaws – Why A California Court May Not Follow Delaware and Court Of Appeal Voids Jury Trial Waiver Notwithstanding New York Choice of Law.
Yesterday, the California Court of Appeal addressed the question of whether the plaintiff was entitled to a jury trial in a shareholder class action alleging that McAfee, Inc., its board of directors and CEO, and Intel Corporation had engaged in an unfair merger process contaminated by conflicts. Central Laborers' Pension Fund v. McAfee et al., Cal. Ct. Appeal Case No. H039508 (Nov. 15, 2017). The plaintiff claimed that its claims for breach of fiduciary duty and aiding and abetting should be characterized as an action at law rather than in equity because (1) the plaintiff was seeking damages; (2) California law characterizes the relationship between shareholders and directors and officers as legal; and (3) model jury instructions envision jury trials on breach of fiduciary claims.
McAfee was incorporated in Delaware and the defendants argued that under the internal affairs doctrine Delaware law should determine whether the action was legal or equitable. The Court of Appeal, however, could "find no basis on which to extend the internal affairs doctrine to matters properly governed by local forum rules, including the form of action (equitable or legal) and mode of trial (jury or bench)".
The plaintiff may have won the argument over what law determines the right to a jury, but it lost the main argument over the existence of such a right. The Court of Appeal found that the gist of the plaintiff's action determines whether a jury trial is available as a matter of right and that in this case the gist was equitable. The Court of Appeal, however, left the door open for other plaintiffs by adding in a footnote:
"We recognize that our conclusion does not foreclose the right to a jury trial in all or other shareholder actions against corporate fiduciaries, which may invoke different factual scenarios or allegations that are cognizable at law."
Court of Appeal Lays A Curate's Egg
For the parties, the Court of Appeal's opinion was a curate's egg, affirming summary judgment for the outside directors but reversing summary judgment in favor of the CEO and the two corporate defendants. Look for a future post to discuss why.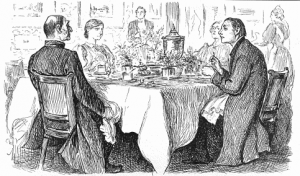 Bishop: "I'm afraid you've got a bad egg, Mr. Jones"
Curate: "Oh, no, my Lord, I assure you that parts of it are excellent!"
"True Humility" by George du Maurier, originally published in Punch, Nov. 9 1895.