In 2018, the California legislature enacted SB 1235 (Chapter 1011, Statutes of 2018). This legislation requires that lenders make disclosures to borrowers in a "commercial financing" (as defined). SB 1235 requires the Department of Business Oversight (soon to be officially known as the Department of Financial Protection and Innovation) to adopt regulations addressing the content of the mandated disclosures.
Recently, the DBO published the required Notice of Rulemaking Action starting the formal rulemaking process under the California Administrative Procedure Act. Before publishing this formal notice, the Department thrice invited public comment on draft regulations. As required by the APA, the Department has also published its Initial Statement of Reasons and the proposed text. The comment period ends at 5:00 p.m. on October 28, 2020.
Two Years Before The Case?
I usually do not read admiralty law cases, but the introduction to this recent opinion by Justice William W. Bedsworth happened to catch my eye:
A case from 1836 described seamen as "'a class of persons remarkable for
their rashness, thoughtlessness and improvidence. They are generally necessitous,
ignorant of the nature and extent of their own rights and privileges, and for the most part incapable of duly appreciating their value. They combine, in a singular manner, the apparent anomalies of gallantry, extravagance, profusion in expenditure, indifference to the future, credulity, which is easily won, and confidence, which is readily surprised.' [Citation.]" (Brown v. Lull (CC Mass. 1836) 4 F. Cas. 407, 409, cited in Dutra Grp. v. Batterton __ U.S. __ [139 S.Ct. 2275, 2279], fn. 1.) Herman Melville first went to sea in 1838 so these were the shipmates he sailed with and later wrote about in Moby Dick; courts of his day took a solicitous approach toward the problems of the hardy souls engaged in seafaring commerce.
Prickett v. Bonnier Corp., 2020 Cal. App. LEXIS 948. My sole cavil with Justice Bedsworth's exordium is that it would have been more temporally and geographically apposite to refer to Richard Henry Dana Jr., who returned to Harvard in 1836 after a two-year sailing sojourn to California, rather than Herman Melville.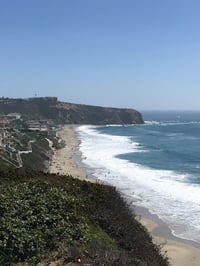 The Dana Point Headlands in Orange County were named for Richard Henry Dana