Yesterday, the California Secretary of State's office released what is calling the "Women On Boards" report. The Secretary of State's office is required to publish this report on its website pursuant to Corporations Code § 301.3. Below are the highlights of the report: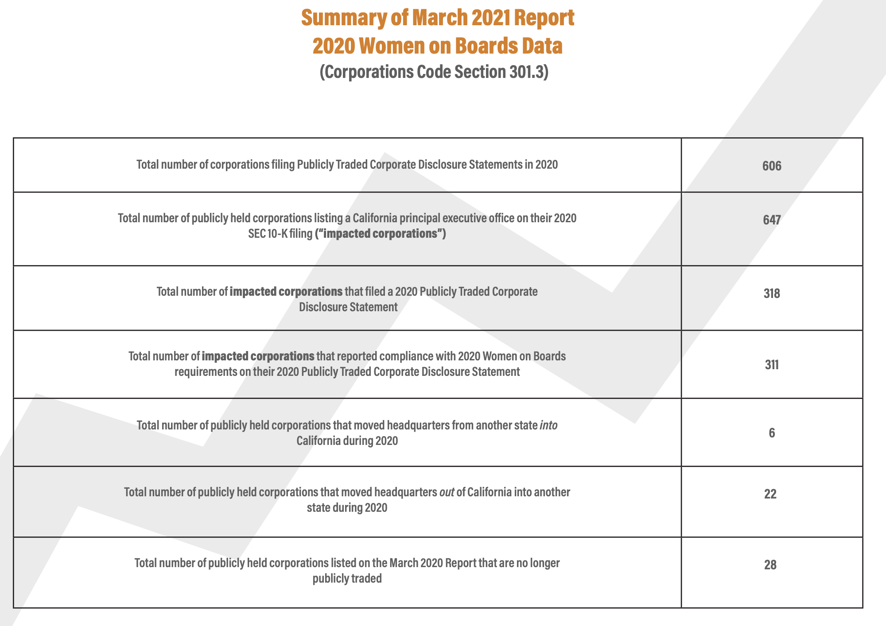 In assessing these statistics, it is important to keep in mind that they are based on Form 10-Ks filed with the Securities and Exchange Commission filed during the 2020 calendar year and California's own Publicly Traded Corporate Disclosure Statement Requirement. Accordingly, it is already somewhat dated. The due dates for these two filings are not the same. Matters are further confused by the fact the Corporations Code defines "publicly held corporation" and "publicly traded [foreign] corporation" differently for purposes of the female director quota and the public corporation disclosure requirements.
Although the Secretary of State reports a net outflow of 16 principal executive offices from California, the report provides no information concerning the reasons for these relocations. Further, a move of the principal executive office does not necessarily mean that a corporation has moved all of its operations from the state.
The title of the Secretary of State's report is also inconsistent with the statutory terminology, which refers to, and defines "female" rather than "woman".