In 2018, California enacted SB 1235 (2018 Cal. Stats. ch. 1011) requiring providers of commercial financing to disclose certain information to the businesses seeking financing. The Commissioner of Business Oversight last week proposed rules implementing this legislation. The Commissioner's proposal follows three rounds of invitations for for comments. The proposed rules address the required disclosure definitions, contents, methods of calculation, and requirements concerning the disclosure timing, manner and formatting.
Copies of the Notice, Initial Statement of Reasons, and proposed text of the rules are available here.
The deadline to submit comments is October 28, 2020. Comments may be e-mailed to regulations@dbo.ca.gov. The Department has not scheduled a public hearing on the proposed rules. However, it must hold a public hearing if any interested person, or his or her duly authorized representative, submits a written request for a public hearing to the contact person listed no later than 15 days before the close of the written comment period.
Beautiful Beatty - Nevada's Rodney Dangerfield?
This weekend, I happened to be passing through Beatty, Nevada and I noticed this posting on the post office bulletin board: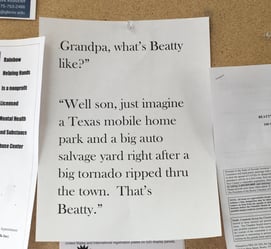 Beatty is in fact worth a visit. Wild burros roam the streets and it is just a few miles from the photogenic ghost town of Rhyolite and the entrance to Death Valley National Park.