In October 1907, F. Augustus Heinze and Charles W. Morse tried, but failed, to corner the copper market, only to be out maneuvered by John Rockerfeller. Mr. Heinze was president of the National Commercial Bank of New York and the depositors began a run on the bank. Although initially curbed, the panic soon spread to the trust companies, including the Knickerbocker Trust. Eventually, the speculations of these two men resulted in a global economic crisis and economic depression.
After a backpacking trip in central Nevada this weekend, I stopped by a local bank, which you can see was closed.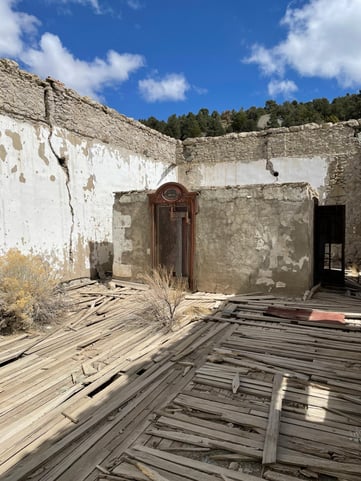 The Nye & Ormsby County Bank occupied the only stone building in Manhattan, Nevada (not New York). It opened in 1906 but closed its doors at 10:30 a.m. on October 24, 1907, less than two weeks after the run on banking and trust companies began across the continent. At the time, there was no Federal Deposit Insurance Company or Federal Reserve System and the Nye & Ormsby County Bank never reopened, although its vault remains.
Coincidentally, I spent that night at the Belvada Hotel in Tonopah. The Belvada occupies a five-story building that was built in 1906 and occupied by the State Bank & Trust Company, which also failed in October 1907. A year later, another bank took over the premises and its upper stories housed offices of some of Nevada's most prominent professionals. The building also housed a saloon that was designated one of the 10 best bars in the United States in 1908.