Sometimes people get confused and will file a certificate of cancellation or dissolution with the California Secretary of State when the entity has not dissolved, much less completely wound up its affairs. The challenge then becomes how to resurrect an entity that is dead as far as the State of California is concerned. Indeed, the Corporations Code provides no means for revivifying the entity.
The solution lies in Article 6, Chapter 3, Part 2, Division 3, Title 2 of the California Government Code, Cal. Gov't Code §§ 12260-12263. Pursuant to these statutes, the Secretary of State is required to reinstate a business entity to active status in either of the following two circumstances:
The factual representations by a shareholder, member, partner, or other person that are contained in the termination document are materially false; or
The submission of the termination document to the Secretary of State for filing is fraudulent.
There is no point in trying to convince the Secretary of State of either of these facts. The Secretary of State is required to reinstate the entity only if a court makes the finding. There are two ways to to obtain the required court order: (i) submitting a petition to the Superior Court containing the legal and factual basis for reinstatement; or (ii) as part of a civil action for damages or equitable relief. Reinstatement is effective from the date of the filing of the court order with the Secretary of State. Thus, it is possible that the cancelled entity could lose the ability to be reinstated under its name if another entity has made a supervening filing under the cancelled entity's name.
The word "cancel" is derived from the Latin word cancellus, which refers to grid or lattice. Thus, cancellation involves blotting something with a lattice-work of lines.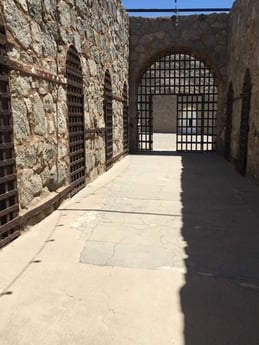 Cancelli at the Yuma Territorial Prison