Yesterday's post discussed Judge Mary Kay Vyskocil's ruling in Barenbaum v. Palleschi, 2020 U.S. Dist. LEXIS 180624 that the plaintiff's derivative claims were not "validly in litigation". The case involved allegations that several executives and directors of FTE Networks, Inc. purported to issue convertible notes "without proper authorization from the FTE Board of Directors, by using forged signatures on the issuing documents".
Under the laws of a different jurisdiction, the plaintiff's breach of fiduciary claim may have withstood a motion to dismiss. The corporation, however, was incorporated in Nevada. Under Nevada law, a director will not be liable to the corporation for a breach of fiduciary duty unless, among other things, the breach involved intentional misconduct, fraud or a knowing violation of law. NRS 78.138(7)(b)(2). The plaintiff's problem in Barenbaum was that he admitted that the notes had been issued without board approval. This defeated any inference of intentional misconduct by the board members sufficient to sustain a claim under Nevada law.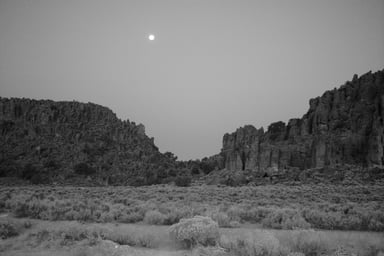 The moon irradiating its silver effulgence upon Black Buttes, Nevada
On a recent drive through the vastness of the central Nevada steppe, I was awed by the sight of this moonset over the buttes.