"Nothing but blue skies do I see"
Kansas claims the pride of place in with its enactment in 1911 of the country's first general securities law. Kan. L. 1911, ch. 133. Kansas Bank Commissioner J.N. Dolley, the author of that law, is also given credit for the name appended to it and subsequent state securities laws - "Blue Sky Laws". See Rick A. Fleming, 100 Years of Securities Law: Examining a Foundation Laid in the Kansas Blue Sky, 50 Wash. L. Rev. 583 (2011).
It may be a surprise to many that Nevada had enacted a securities law two years before Kansas. Nev. Stat. 1909, ch. 56. The law imposed disclosure and filing requirements. The application of this law, however, was limited to mining companies. At the time, Nevada was experiencing a mining boom centered in Tonopah and Goldfield.
What came next is even more surprising. In 1915, the Nevada legislature repealed the law. Nev. Stat. 1915, ch. 49. It was not until 1963 that Nevada enacted the Uniform Securities Act. Nev. Stat. 1963, ch. 318. Nevada's current law, a version of the Uniform Securities Act, can be found in Chapter 90 of Nevada Revised Statutes.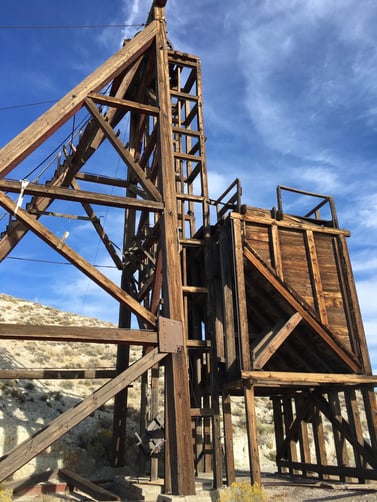 The headframe of the Desert Queen mine in Tonopah, Nevada.
This headframe was used from 1901 to 1929