I've devoted several recent posts to the new secondary trading exemption that Congress tacked on to Section 4 of the Securities Act of 1933. The exemption is poorly drafted and in many cases may prove unusable. Perhaps this reflects its provenance as part of a large bill devoted primarily to transportation matters - the Fixing America's Surface Transportation Act (aka the "FAST Act").
One reason that prospective sellers may be disappointed with the new exemption is that it requires the seller and prospective purchaser to obtain specified financial information from the issuer when the issuer is not subject to the reporting requirements of the Securities Exchange Act of 1934, is not a foreign private issuer exempt from the registration requirement of Section 12(g) of the Exchange Act pursuant to Rule 12g3-2(b), or is not a foreign government as defined in Rule 405. That information includes the "issuer's most recent balance sheet and profit and loss statement and similar financial statements" which, among other things, must be prepared in accordance with Generally Accepted Accounting Principles (GAAP) or in the case of a foreign private issuer International Financial Reporting Standards.
This raises numerous questions. For example, under what circumstances would it be in the best interests of the issuer and its remaining owners to provide this information? What will be the issuer's liability for any misstatements or omissions in the information provided? Can the prospective seller legally indemnify the issuer for any liability arising from the seller's transaction? If the issuer does provide the requisite information, what is its responsibility to ensure that the other conditions of the exemption have been satisfied?
From Pillar to Post
Recently 18 law professors wrote this letter opposing the amendment of the Trust Indenture Act of 1939 via an omnibus appropriations rider. In their letter, they describe the TIA as "one of the pillars of American securities regulation". Compared to the Securities Act and the Securities Exchange Act, I would describe the TIA as a small post or puncheon, but never a pillar.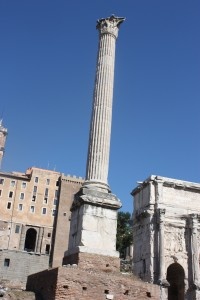 A real pillar - the Column of Phocas in the Roman Forum
Share on: