In 1924, Nora Barnacle wrote "To day 16 June 1924 twenty years after. will anybody remember this day." Nora's husband, James Joyce set all of the action of Ulysses on a single day, June 16, 1904, the date of his first date with Nora. Because Ulysses' hero was named Leopold Bloom, the day became known as "Bloomsday". James wrote aspects of Nora into Ulysses in the character of Leopold's wife, Molly.
Although Ulysses has a reputation of being an arduous read, it is a wonderfully realistic, and at times funny, saga of a fatherless son, a sonless father, usurpation, anti-semitism, a homecoming and above-all, life in the midst of death.
Ulysses was, of course, the subject of a famous obscenity trial before Judge John Woolsey who wrote:
"I am quite aware that owing to some of its scenes 'Ulysses' is a rather strong draught to ask some sensitive, though normal, persons to take. But my considered opinion, after long reflection, is that, whilst in many places the effect of "Ulysses" on the reader undoubtedly is somewhat emetic, nowhere does it tend to be an aphrodisiac.
'Ulysses' may, therefore, be admitted into the United States."
United States v. One Book Called "Ulysses", 5 F. Supp. 182, 185 (S.D. N.Y. 1933). His ruling was later upheld by a panel of the Second Circuit Court of Appeals, United States v. One Book Called "Ulysses", 72 F.2d 705 (1934). For many years, Random House, the legal U.S. publisher of Ulysses, included the text of Judge Woolsey's opinion in each copy of the book. For those interested in the legal history of Ulysses, I recommend Kevin Birmingham's the most dangerous book: the battle for James Joyce's Ulysses.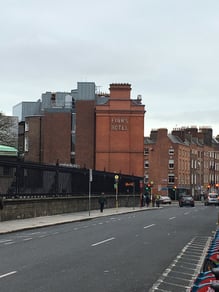 Finn's Hotel, Dublin where Nora worked on Bloomsday